It costs hundreds of dollars each year to run the Maine Genealogy Network and host the databases. Your donation, however small, will help ensure that Maine Genealogy stays online and keeps growing for years to come.
Or mail your donation (payable to Christopher Dunham) to: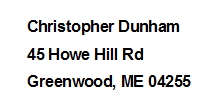 Support Our Partners
Maine Genealogy earns a commission when you buy products or subscriptions through our affiliate links. If you are considering joining Ancestry.com or Fold3.com, or getting your DNA tested at AncestryDNA or 23andMe, do so through one of these links and help support Maine Genealogy.
Join the Network
If you haven't already, join the Maine Genealogy Network. It's free, and the best way to meet fellow Maine researchers.
Invite Others to Join
If you are already a member of the Network, invite your friends and family to join.
Be an Active Member
Network members can upload family photographs, ask and answer questions in the forum, blog about their research, and join groups relevant to their specific interests. All of these activities contribute to the success of this website.